Why Refined Flour (Maida) Is Not Healthy For Our Body?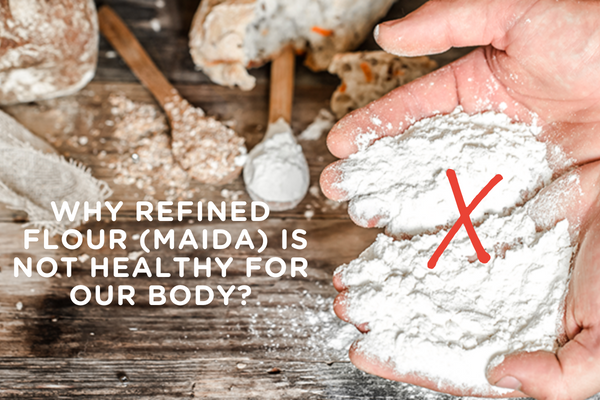 What Is Refined Flour?
Refined Flour is the finest type of wheat flour containing high calorie content but minimal nutritional value that is used to make pizza, bread, samosa, kachoris, puri, cakes and biscuits that you love. Refined flour commonly known as Maida in India, has higher glycemic index then the wheat flour. Moderate consumption of refined flour maida is safe but excessive consumption can damage several organs and the digestive system of human body. People should switch to fiber rich foods like rolled oats in order to maintain their healthy digestive system.
What Is Maida Made of?
Did you ever thought that how is maida made? As the name all purpose refined flour suggests, maida as a grain is very processed. This is why when you touch maida and atta, maida feels a lot softer while atta is slightly coarser. BTW, both atta and maida flour comes from the wheat grains. The key difference between the two is that while maida is made from the endosperm of the wheat grain, atta consists of the germ, endosperm and bran of the wheat grain. To simply put it, atta is less refined while maida is milled excessively and bleached and ends up as a white flour. It may contain chemicals like benzoyl peroxide and alloxan which are added during the bleaching process. 
It is interesting to note that while atta is often a part of Indians' daily diet in the form of chapathi, maida traditionally makes more of an appearance during festival seasons for making special sweets and savoury items such as puri, samosa, gujiya etc. The problem is that most Indians consume maida almost on a daily basis instead of just enjoying it during special occasions. Known as the Great Bread Maker, maida atta makes its way into your diet through bread, biscuits, cakes, cookies. Most of us are aware of this, but when our stomachs are buzzing with hunger pangs, we make impulsive dietary decisions. Instead of reaching out for a snack which is made of whole grains or proteins or millet muesli, we make poor choices. 
Is Maida Good For Health?
We can say that maida calories are kind of empty calories stripped off fiber, proteins, antioxidants, vitamins and minerals. On the other hand, whole grains are complex carbohydrates rich in proteins, fiber, Vitamin B1, B2, riboflavin and folate. Depending on how much and what kind of maida food items you've eaten, maida digestion time can be anywhere from 24 to 72 hours. We are aware that consuming too much of refined flours and grains leads to diseases like diabetes, PCOS and obesity and makes us feel sluggish. We also crave more of the same refined grains to satisfy our hunger. 
So do we completely eliminate refined flour from our lives? No! Moderation in moderation please. Let's continue to enjoy the things we love on occasion. We also have the option to make maida flour ourselves. Doing this is a better option than going for a store bought highly refined and bleached maida powder.
Why Refined Flour Is Bad For Your Body?
1. Increases body weight
2. Existence of SMBS
3. Leads to Diabetes
4. Digestive problem
5. Not Enough nutrients
6. Acidic in nature
How To Make Maida at Home? 
Step 1: Soak the wheat grains
Step 2: Grind the soaked wheat flour into a paste
Step 3: Use muslin cloth to sieve mix
Step 4: Run some water through this
Step 5: Put the mix into a bowl & let it rest
Step 6: Remove the clear surface water
Step 7: Keep thick mixture only
Step 8: Sun dry thick mixture for 2 to 3 days
Step 9: Grind solid remains of wheat flour into your home made maida powder.
To sum up, grains are needed in our daily lives to keep us full, keep our brains working and keep out the crankiness! A balanced diet filled with whole grains such as brown rice, less refined atta, millets such as ragi, jowar, sorghum, bajra and gluten free oats are better for daily consumption than maida flour. However maida snacks once in a way or in our desserts and treats is OK, provided we are aware of the amounts we are consuming. 
Found this article insightful? Visit the Wingreens Harvest Blogs to read more engaging blog posts related to health and nutrition foods. You can also visit Wingreens Harvest to buy healthy cereals online.
Frequently Asked Questions 
Q1. Is Maida Bad For Health?
Ans: Maida if consumed everyday is bad for health as it is a simple carbohydrate stripped off nutritive value. Too much maida consumption can lead to diabetes, obesity, PCOS and constipation.
Q2. Is Maida And Atta The Same?
Ans: Maida and atta are actually both natural grains in origin, coming from the wheat grain. However maida is far more processed, milled in factories excessively, and often bleached. Atta retains more of the protein, bran and some nutrients.
Q3. What Is Maida Called In English?
Ans: Refined all purpose flour or refined all purpose white flour
Q4. What Can I Replace Maida With?
Ans: You can replace maida with whole wheat, buckwheat, oats, ragi, jowar, sorghum, bajra, tapioca flour, almond flour, oat flour.
Q5. Is Maida Flour Gluten-Free?
Ans:
 No, it does have gluten in it.
Leave a Reply